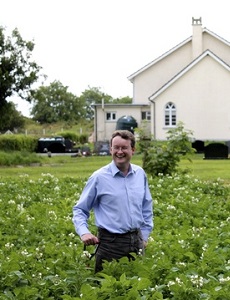 Parish Potatoes
In 2001, as part of the Christian Life course at Regent, we spent a weekend at Hunterston Farm on Galiano Island with Loren and Mary-Ruth Wilkinson. We picked potatoes there for the first time in our lives, which is ironic as we had arrived in Vancouver fresh from Ireland.
(Update: You can watch Loren and Mary-Ruth discuss food, community, and the Wilkinson Theology of Soup in this delightful new video.)
Years later, we are growing our own potatoes on land belonging to our church manse. After a lifetime spent in towns and cities, we are happily ensconced in country life where Gareth is pastoring two small rural congregations – and we are thoroughly enjoying the experience.
We have found that something as simple as growing potatoes has given us a way in to the congregations that we hadn't anticipated. At first, we were a source of amusement as "townies" just having a go. But our first, small crop was a success and Gareth shared his enthusiasm (and potatoes) with our neighbours and congregational members.
We have become more ambitious in recent years, experimenting with heritage varieties, which has opened the door to many interesting conversations. For the past two years, two men from Drumlough church have been helping the young people grow potatoes in one of the manse fields; these are then made available to church members for a small donation to raise funds for a new church hall which is desperately needed.
_________________________________________
In July 2013 Gareth (MDiv 05) and Michelle (MCS 05) welcomed visiting Regent faculty member Rikki Watts and wife Katie, as Rikki had been speaking at a conference in Northern Ireland. We are grateful that Rikki returned with this update and more photos from the McFaddens than we can display here. Suffice it to say, the potatoes appear as good as they evidently tasted!